Create a resort destination in a beautiful, peaceful, culturally sophisticated community.
The Windsong vision is to develop a luxury boutique hotel in a resort setting offering spa and fitness amenities, farm to table fusion restaurant outlets, and outdoor activities in natural surroundings near the cloud forest of Costa Rica. The focus is to create a destination that caters to couples and families, seeking extended vacation or semi-permanent residence, in order to immerse themselves in the premiere natural surroundings of Costa Rica.
Visitors to Windsong will come to the area for the natural attractions and close proximity to the cloud forest reserves. They will stay on the resort property for the attentive service and luxurious amenities offered exclusively in the Windsong development where they can focus on health and relaxation, and immerse themselves in the local community.
Windsong as a Resort Destination
Both guest rooms and the main facilities are distributed over the site to offer expansive views and situated to be immersed in the natural surroundings so that a sense of place, intimacy, and privacy is maintained.
The majority of the development is scattered and low rise, and fully integrated into the landscape and topography of land. Guestrooms occupy 70% of the gross floor area. 10% of the rooms will be handicapped accessible according to US ADA guidelines.
Why Develop Windsong
Attractive microclimate retreat near the cloud forest

Location takes advantage of the natural surroundings

Developed to create a sense of place

Recreational facilities and activities that will support the "destination concept"

Established close links with the local community

Sustainable development with eco-friendly focus

Renewable energy and recycling initiatives

Wildlife conservation

Natural landscaping and gardens to bring the outside in
Resort Principals
Windsong aims to create a destination in the Monteverde region through the intrinsic beauty of the land itself, and the sense of privacy and exclusivity the location provides. This includes a strong focus on green initiatives, eco-tourism, sustainable development of the hotel and private residences, and the many health benefits the region offers.
Proposed Resort Ammenities
Spa and wellness facilities

Pools and outdoor entertaining spaces

Restaurant and teaching kitchen

Bistro and coffee shop

Personalized butler service

Creative co-work and teaching space

Yoga and fitness facilities for private and group classes

Equestrian activities and facility

Gardens and natural landscaping

Tennis

Hiking trails for all levels with viewing and sitting areas

Viewing platforms for bird watching and star gazing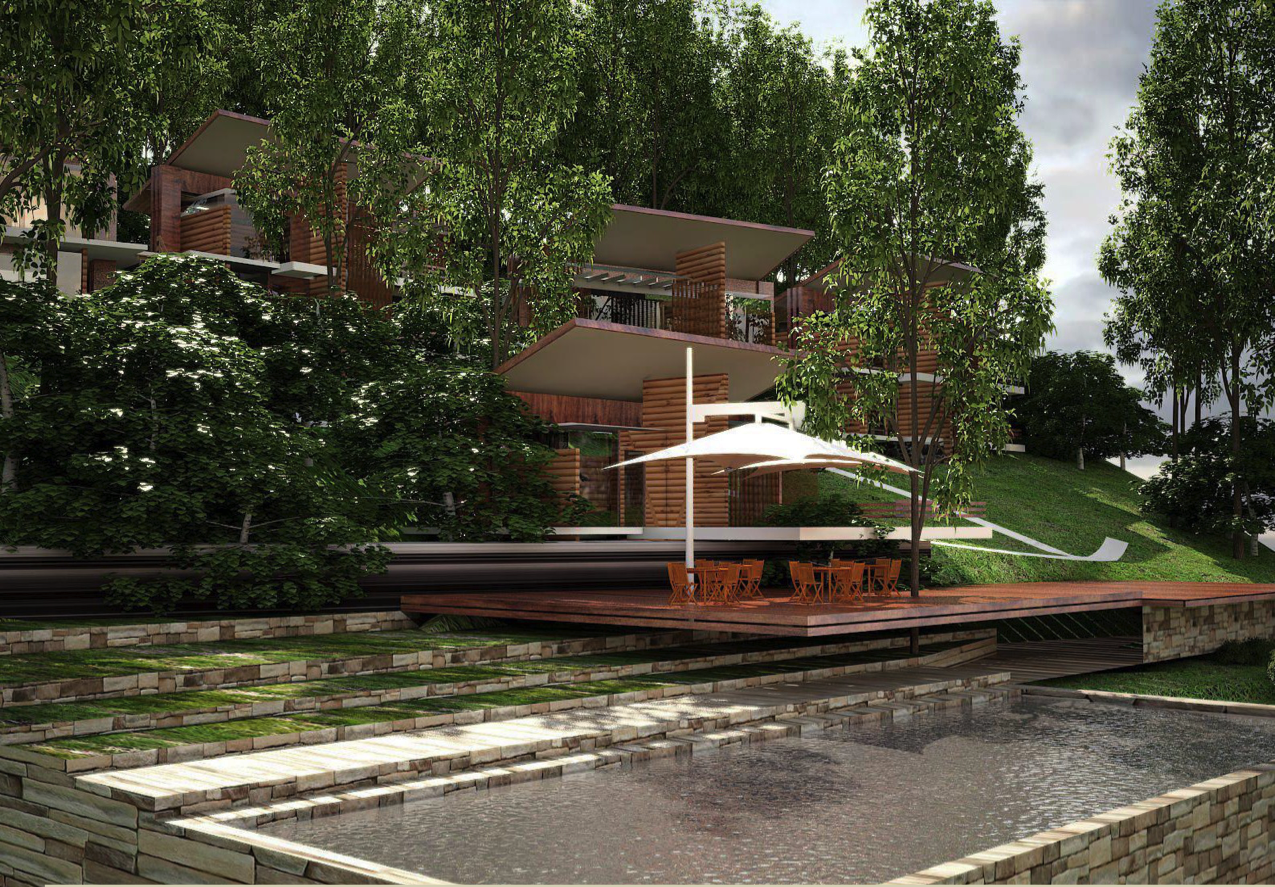 Windsong as a Residence
Create a semi-permanent destination to reconnect with nature
Discerning travelers often look for ways to extend their vacation experiences. The cloud forests of the Monteverde region provide such unique offerings, that a single visit will not satisfy. As a separate offering, the residential development phase of Windsong seeks to meet the demands and interests of travelers who want more. Owners will re-discover the relaxed pace and calm serenity of their first visit as soon as they arrive at their private oasis. The primary markets are the U.S., Great Britain and Western Europe, as the majority of tourists visiting Costa RIca regularly come from these countries.
While hotel visitors will have access to the community and public spaces of the resort, those investing in a condominium or private single family home will enjoy separate facilities and personalized services. Additionally, as residential owners, the hotel resort staff will be available to accommodate requests and provide customized experiences. This concierge level of service adds VIP value to the resident owners' investment in Windsong and in return provide another source of revenue for the Windsong Hotel and Resort.
A private secondary pool and Club House is slated for residential owners and their guests to enjoy for personal relaxation, hosting events and social gatherings. VIP services include custom provisioning prior to arrival, priority reservations at the resort's signature restaurant and spa, and enrollment for classes and workshops offered at the resort. Residents can also pre-arrange admission to the region's popular adventures and activities, which is of particular value during high season.
Condominiums and Private Lots
Once the resort and hotel is operational, the next phase of funding and development of Windsong focuses on condominium and private home ownership. This phase will mirror the resort's design by incorporating build features that allow the comforts of the luxurious interior space to meld with the natural environment. Approximately 50 condominium units are planned in one, two and three bedroom floor plans. All will feature extensive terraces, decks and outdoor space and adhere to eco-friendly construction guidelines.
Continuing development plans detail approximately 50 lots situated on the resort property to be sold as single family custom home construction sites. These lots are mapped to maintain the integrity of the ecosystem and landscape. Architectural plans provide detailed guidelines in keeping with the original resort design build, but will offer the customization needed to attract buyers seeking a luxury semi-permanent home in Costa Rica.
Costa Rica is internationally known for its tourist industry and leadership in ecotourism and sustainability. Its geographical location and ease of access make the North American market the prime target with an estimated 1.3 million visitors in 2017. However, the Institute of Tourism is also finding success with the European markets. ICT shows a 8.4% growth in European travel with almost five hundred thousand estimated visitors from Europe in 2017.
Visitors specifically come to Costa Rica to experience the beaches and natural wonders the small nation offers. The area of Monteverde is one of the prime tourist destinations due to its biodiversity and unique Cloud Forest Natural Reserve. Approximately 250,000 tourists visit the Monteverde region each year, and that number has been increasing annually and is expected to increase when a new road is completed in 2019. The Monteverde Cloud Forest stretches over a protective area of 35,089 acres and the Santa Elena Cloud Forest is known to be the birthplace of the Costa Rican ecotourism movement.
Windsong seeks a financial partner with successful track record for development and operations for luxury boutique hotels to purchase an equity interest in Windsong. Partner will assist Founder and existing team of architects and attorneys with finalizing site plan and contractor responsibilities for pre-development and hotel development phases. Subsequently, Partner will further assist assembling team to manage day-to-day operations when hotel and resort property are ready for operation.
Approximately 120 acres surrounding the hotel resort site is unencumbered, listed on the National Registry and individually owned by the founder

The hotel resort will be built on approximately eleven acres of this property

Possibility of bank financing for construction loans

Detailed costs and feasibility analysis available

Master Plan by Nagel architects completed in 2014 with green principles

Lexincorp Attorneys of Central America pre-engaged to represent all stages from funding through development and sales

Excellent timing for growth in Monteverde with new roads and infrastructure improvements being finished in 2019.
Inquire about Investment Opportunities or Pre-Sales
Submit your contact details and a Windsong representative will be in touch with more information.
History of Monteverde
History of Monteverde The region of Monteverde is a major tourist destination and capitalized on Costa Rica's reputation as an eco-friendly vacation destination. Due to the region's high altitude – some 4,662 ft (1,440 m) above sea level – the Monteverde region is privileged to receive a steady supply of clouds and the life-giving moisture that they contain. In the Cloud Forest, this moisture, often in the form of fog, catches on the branches of the tallest trees and drips down to the other organisms below. Atop the Continental Divide, this moisture helps to support a complex and far-reaching ecosystem of astonishing biological diversity that harbors over 100 species of mammals, 400 species of birds, tens of thousands of insect species, and over 2,500 varieties of plants, 420 of which are orchids alone. The days are long, and start early with sunrise at 5:30 AM and sunset at 5:30 PM year round.
The hiking trails in the virgin Monteverde and Santa Elena Cloud Forest reserves are well maintained. Day tours give visitors a grand display of flora and bird watching, while night tours highlight the forest's varied wildlife. Zip lining, bungee jumping; swinging bridges, horseback riding, ATV rental, and an unforgettable Tarzan swing are just some of the attractions the cloud forest has to offer. Area activities include a butterfly garden, a bat exhibit, the serpentarium (snake exhibit) and an insect exhibit, making Monteverde an excellent destination for families.
The site for the Windsong development sits just below the actual Cloud Forest in a highly desirable micro-climate. The Windsong property is approximately 4.5 hectares (11 Acres) within a 50-hectare (120 acre) farm, owned debt free by Founder Jim Ford. The entire farm property is located on a public, well-maintained road. The position of the resort site was chosen during previous studies due to its prime location in the center of the property with panoramic views of the nearby nature reserve and topography.
Surrounding Area
Guests and future resident owners have easy access to the any of the three area reserves of:
MONTEVERDE, with its amazing suspension bridge in the canopy, the largest amount of primary forest, a great hummingbird gallery outside the gates, an awe inspiring trail along the continental divide, and the tourist favorite trail of Bosque Nuboso;
SANTA ELENA, hosting fewer visitors and quieter trails, a higher-elevation cloud forest on the wetter Caribbean slope, a tower to climb and glimpse a view of Arenal Volcano; and
CURI CANCHA, with more varied habitats, pasture land, and a surprising amount of secondary growth forest, excellent wildlife viewing potential in open spaces, limited crowds and very well-maintained trails and facilities.